Four Sano students received master's degrees in Computer Science – Data Science!
We are happy to spread the information that yesterday four Sano Science students graduated from the Akademia Górniczo-Hutnicza w Krakowie with a master's degree in Computer Science – Data Science!
Congratulations to Aleksandra Pestka from Brain and More Lab, Arkadiusz Pajor from Health Informatics Research Group, as well as Przemysław Jabłecki and Filip Ślazyk from Extreme-scale Data and Computing research team.

Przemysław Jabłecki's master thesis is titled: "Application of federated learning to medical image segmentation". Federated learning is a technique that allows the training of machine learning models in a distributed way without transferring the data from its source. It has thus potential applications in medical image analysis, where privacy and security issues are of great importance. Although there are examples of using federated approaches to the analysis of medical images, there is still a need for research in this area and for experiments in a distributed environment.

The goal of the thesis was to apply federated learning techniques to the problem of medical image segmentation. Przemysław used public datasets such as echocardiography, coming from multiple sources. The analysis was performed using distributed computing frameworks such as Flower or FedML, using distributed computing infrastructures such as PL-Grid or a public cloud service. In addition to evaluating the learning process, the goal was also to evaluate the performance of distributed computing environment. The study includes also possible attacks and the security of the developed solution.

Aleksandra Pestka wrote about predicting misfolded proteins spreading in Alzheimer's disease using machine learning. Most neurodegenerative diseases are believed to be related to the spreading of misfolded proteins. Controversies still arise whether which path those proteins follow, and whether brain structures are damaged during this spreading or they were predisposed to it.
Several studies have been carried out focused on Alzheimer, Parkinson, and ASL. Those studies mostly follow dynamic models. With this thesis, Aleksandra wanted to investigate whether an autoregressive model produces different predictions compared to the diffusion model. Ground truth is given by Tau and beta-amyloid deposits detected by PET tracers. Pre-processed brain connectomes were given, and initial code and data have been provided.

"Experiments with the large-scale classification of medical images using federated learning", thesis related to the promising field of federated learning and its potential applications to the classification of diseases present in chest X-ray images, was written and defended by Filip Ślazyk.
Although federated learning is a promising technique for the analysis of medical images, as it may solve some security and privacy issues related to distributed data access, there is still a need to evaluate this technique in large-scale experiments in a distributed environment such as cloud infrastructure.

The goal of the thesis was to run large-scale experiments with federated learning on medical image classification tasks. Filip used public datasets such as chest X-ray images, coming from multiple sources (countries, hospitals), and existing distributed machine learning frameworks. As the computing infrastructure, a public cloud and PL-Grid infrastructure were used. Various metrics related to the distribution of data, its granularity, and partitioning were investigated, to understand their impacts on both the efficiency of the learning process and the performance of the infrastructure.

Arkadiusz Pajor's master thesis is "Medical decision support system based on interpretable models". The project was aimed at testing the possibility of building a medical decisions support system based on interpretable models. The aim of the work was to develop an analysis of systems' feasibility and potentially a prototype.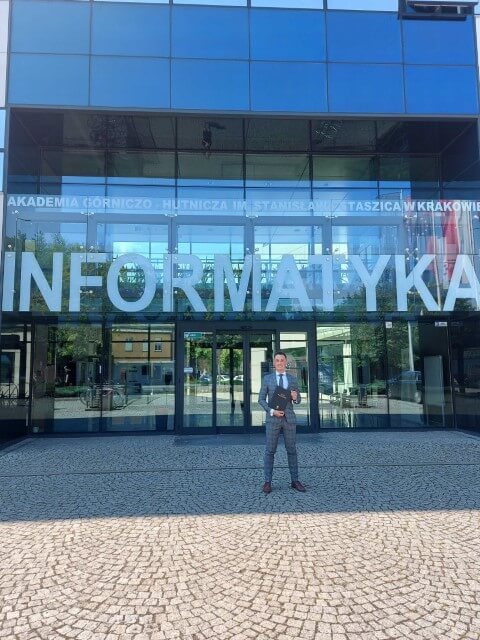 All the projects were conducted in Sano Centre for Computational Medicine and had supervisors and scientific supporters inside our research institute: Maciej Malawski, Arkadiusz Sitek, Alessandro Crimi, and Szymon Płotka.