Smart Work for Smart Life (SW4SL) project – pilotage has officially launched
At the beginning of September, the Smart Work for Smart Life project started a new phase. After months of work and building the SW4SL application, we can start to test our application and collect the data.  
Aneta Lisowska, the postdoctoral researcher at Sano, proposed a study investigating how to utilize machine learning for increased engagement with mobile and wearable health applications. After a brainstorming session with Anna Maria Trawińska, who is Sano's communication and marketing manager, but at the same time she has a Ph.D. in social sciences, they decided to call the project "Smart work for smart life. How to use "smart things" for better mental health?". 

The project idea is grounded in the observation that there is a relationship between stress levels, productivity, work habits, and the need to recover from work. This relationship is very important nowadays when a lot of people work from a home office and when mental health issues are more important than ever before! Well-being is called one of the trends of 2022. We would like to check if smart technology has the potential to monitor users' well-being and ultimately support them with building healthier work routines. 

Smart work for smart life (SW4SL) study is aligned with Sano's vision of "shifting healthcare philosophy from reactive to proactive" and aims to explore methods for accurate sensing and detecting a physiological, mental, or behavioral health condition using consumer-grade wearables. It is also linked with Sano's research goal "to create a personal health tracker that will collect all available information about individuals and provide a prediction of our health."  

SW4SL project is a technology evaluation study. The data gathered during the study will be used at Brainhack Kraków 2022. Sano is the co-organizer of this hackathon.  

What SW4SL project is about then? 
Evaluation of technology (quality of physiological signal captured in experimental conditions): medical vs consumer grade watch; 
Evaluation of the utility of physiological signals captured in real-life conditions for the assessment of positive and negative affect; 
Investigation of the relationship between physiological state and responsiveness to notifications.  
Aneta worked on this project together with Michał Grzeszczyk who was responsible for the development of the smartwatch application, Patrycja Lelujko for the UX, and Anna Maria for sociological consultations. A huge contribution had also Rosmary Blanco, who leads data acquisition from diverse wearables in experimental conditions. 

The study will take weeks and we just started at the beginning of the month!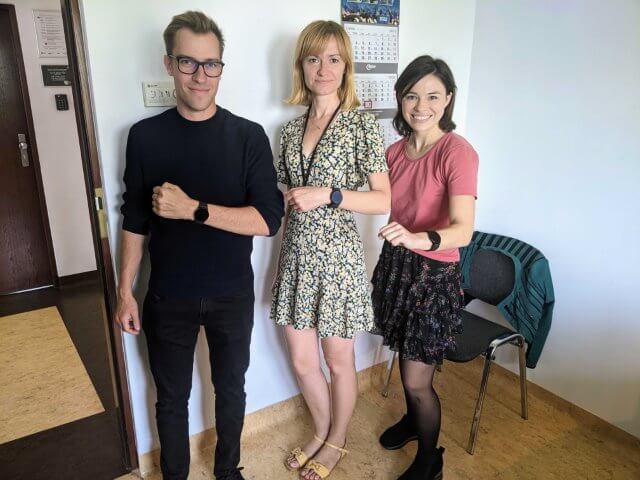 Each study participant received a smartwatch and mobile app that provides daily work wellbeing tips with links to relevant scientific literature.