Sano at Women In Tech Summit 2022
Perspektywy Women in Tech Summit 2022 is behind us. It was a great time and huge success! Time for a short summary.
First of all: we did it! It was a wonderful 2-day event, full of inspiration, conversations, and incredible energy, as well as the biggest in Europe event for women in science, technology, and IT, AI, VR, i.e.! Thank you all for visiting Sano Science stand. With every chat we were more and more amazed at how many young women are interested in combining medicine, cognitive science, neuroscience, biotech knowledge with IT!

Maybe with some of those young people we will meet in Sano sooner than later.

Second of all: there is a need for MedTech at such conferences! Before the event we had some doubts if the independent research institute can compare with BigTech's corporations. And guess what: yes, we can!!! In fact, Sano Science was the only strictly health-tech stand at the event and so many participants came to us and say: "you are the best stand at the event! I dreamt about a company like you!" After the event, I have even more energy to promote Life Science, digital healthcare, AI in medicine, and our work!

Third of all – the statistics!
10 432 participants (over 7500 offline), which means that we have been visited by over TEN THOUSAND participants!
73 – this is the number of countries our guests came from;
500 speakers giving speeches, presentations, workshops, mentorings (Aneta & Karolina were the ones from them), and role models sessions.
Finally, our talented team: Aneta Lisowska, Aleksandra Pestka, and Szymon Seliga talked about the Sano teams' research projects and plans (about all our six research teams and two more: VR&Robotics and "wearable" too) , Maja Więckiewicz and Karolina L. Tkaczuk discussed collaboration, employment, and internships opportunities. Anna Maria Trawińska made all these happen and she cared about Sano's visibility and brand recognition. She also came up with the idea of social action "Brain's power – wishes for humanity" which was just loved by participants of the event! Soon we sum up the project and we let you know what is really important for women in the tech community.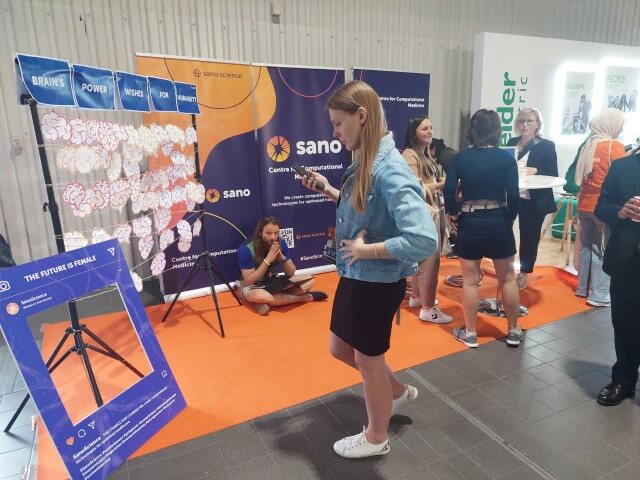 This is the most wonderful conclusion with which we came back to Krakow: young people need to work with a mission and are willing to dedicate their talents and skills to improving the world!

And Sano is the chance for change in the medical world.

Thank you each and every one of you for your work and contributions to building Sano!

We hope that it will get louder about us each month!