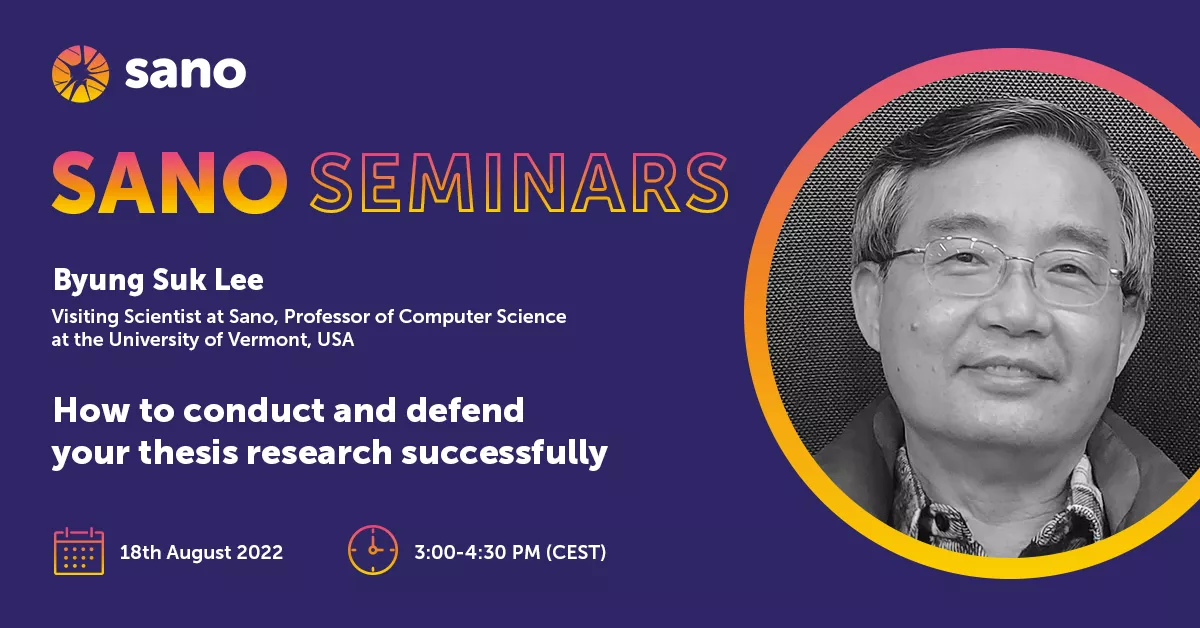 72. How to conduct and defend your thesis research successfully
Byung Suk Lee – Visiting Scientist at Sano, Professor of Computer Science at the University of Vermont, USA
Abstract
This seminar will be an FAQ webinar hosted by the Clinical Data Science team for the entire cohort of graduate students at Sano. I will answer common questions raised by graduate students during their pursuit of thesis research. Listed below are some probable questions pre-compiled for me to answer. I will share my answers to them and then open the floor to other questions from the audience.
How shall I find a thesis research topic?
How shall I conduct literature survey?
How shall I balance between depth and breadth in doing thesis research?
How shall I conduct experiments in computational research, and what are important in publishing the experiment results?
How shall I collaborate with others in my own thesis research?
How shall I manage relationships with my thesis research advisor and my Sano supervisor, especially in a conflicting situation?
How important is publishing the thesis research results, and how shall I choose the publication venues?
About the author
Byung Suk Lee is a professor of computer science at the University of Vermont. He is committed to graduate education, and has served as a graduate program director of computer science for 15 years. He received the B.S. degree from Seoul National University, M.S. degree from Korea Advanced Institute of Science and Technology, and Ph.D. degree from Stanford University. His research interests include data and database management, data mining, data science, data stream processing, information retrieval, information system architecture, and machine learning, with primary applications in environment, healthcare, transportation, smart facility, and citizen science. He has been a PI and Co-PI of nearly 20 funded research projects, an author of more than 80 peer-reviewed publications, and has served as an organizer, chair, and member of program committees in about 50 international conferences.