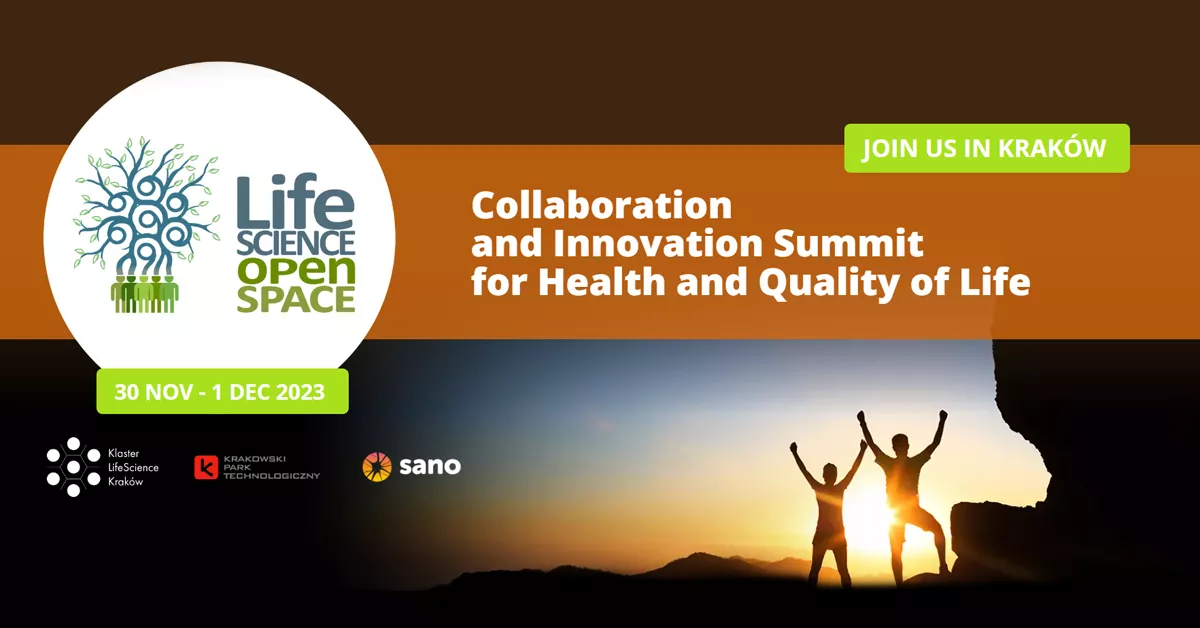 Collaboration and Innovation Summit for Health and Quality of Life. LSOS 2023 in Kraków
Life Science Open Space 2023 (LSOS 2023) is exceptional for our part of Europe networking event. The Summit is dedicated to collaboration and innovation for health and quality of life and will bring together scientists and innovators, entrepreneurs and doctors, brokers, investors, and officials.
Do you have an immense interest in the trends in medicine, technology, and society that shape the future of healthcare right now? Join us in Kraków on 30 November and 1 December at Krakowski Park Technologiczny, st. Podole 60, to make your contribution to solving problems, facing challenges, and developing solutions!
As a co-organizer of the Summit, Sano is happy to invite you to the dedicated Health Track with a rich and profound agenda!
Agenda of the Health Track
The first day, 30.11.2023
09:30 – 11:00
Workshop HOSPITAL OF THE FUTURE
What will hospitals look like in 5, 10, 20 years? You will get the answer from the leaders who are creating the future of healthcare now! At the session, you will learn what is an Innovative Hospital, based on patient-centric technologies, delivering care where people are: at home, in the community, or in a traditional hospital setting.
Chairman: Prof. Andrzej Kononowicz, Jagiellonian University Medical College.
Among presenters:
Prof. Zbigniew Nawrat, Foundation of Cardiac Surgery Development
Kamil Kipiel, Medical Simulation Technologies.
11:30 – 13:00
Workshop PERSONALIZED MEDICINE
What would you say, if healthcare helped you not to get sick rather than to cure your diseases? This kind of approach is known as preventive and the idea is rather old. However, it has become realistic and more efficient only recently, with the development of artificial intelligence and advanced machine learning techniques. At this workshop, learn more about the actual possibilities of tailoring treatment plans for each patient!
Chairman: Dr. Jose Sousa, Sano.
Among presenters:
Dr. Mark Ruddock, Chief Scientific Officer for Randox Health GB,
Dr. Paulina Tworek, Postdoc researcher at Sano.
14:00 – 15:30
Workshop DIGITAL HEALTHCARE
Big Data revolution in medicine – are we there yet? The workshop will be focused on using technology to transform the ways we deliver care: making it more convenient, affordable, and accessible than in traditional healthcare.
Chairman: Dr. Maciej Malawski, Sano, Associate Professor at AGH.
Among presenters:
Dr. Andrew Narracott, Senior Lecturer in Cardiovascular Mechanics in the Department of Infection, Immunity and Cardiovascular Disease; Director of Operations for Insigneo at the University of Sheffield.
16:00 – 17:30
Workshop VISUALIZING HEALTH
This workshop will be focused on technological game changers in medical diagnostics: new methods in medical imaging processing, molecular techniques, and personalization. You will learn what helps us to diagnose diseases earlier and more accurately than ever before, and what are our perspectives in this field!
Chairman: Dr. Alessandro Crimi, Sano
Among presenters:
Dr. Jan Argasiński, Postdoc researcher at Sano,
Michał Jungiewicz, Codete.
The second day, 01.12.2023
09:30 – 11:00
Workshop DRUG DISCOVERY/DEVELOPMENT
The workshop will give an update on pharma/biotech in the AI-driven landscape. The focus will be on collaboration and sharing resources, expertise, and ideas to accelerate the drug development process to bring new treatments to patients as soon as possible.
Chairman: Dr. Ahmed A. Hamed, Sano.
Among presenters:
Dr. Adam Sułek, Postdoc researcher at Sano,
Dr. Piotr Ciochoń, Industry Liaison Officer at SOLARIS National Synchrotron Radiation Centre,
Justyna Popiół, Uniwersytet Jagielloński.
11:30 – 13:00
Workshop DATA-DRIVEN TREATMENTS
The session will be focused on the use of (digital) data to guide the therapy and deliver optimal evidence-based treatment. The topics will cover new therapeutic technologies and assistive medical devices to support health recovery.
Chairman: Prof. Marek Sanak, Jagiellonian University Medical College.
Among presenters:
Prof. Andrzej Skalski, CTO of MedApp S.A.
Maciej Stanuch, MedApp S.A.
More information and registration for the event here: https://lsos.info/
Come to LSOS, get inspiration from leaders, and build new contacts!