Małopolska Noc Naukowców 2022 – Sano wśród wystawców! 
Małopolska Noc Naukowców to wielkie święto nauki, wiedzy  i technologii. Na tej niezwykłej imprezie popularno-naukowej nie zabraknie zespołu Sano Science!  
Roboty, rozszerzona rzeczywistość i AI to nasza codzienność – pracujemy nad tym, by wspierały one w pracy lekarzy i chirurgów. Spersonalizowana medycyna obliczeniowa to przyszłość, którą współtworzymy.  

30 września czekamy na Was razem z NEO Hospital w Szpitalu na Klinach w Krakowie. W programie m.in.:  
Warsztaty z operacji laparoskopowej 
Nowoczesna diagnostyka USG 
Symulator chirurgiczny rzeczywistości wirtualnej 
Pokaz rozszerzonej rzeczywistości. 
Więcej informacji o wydarzeniu: https://nocnaukowcow.malopolska.pl/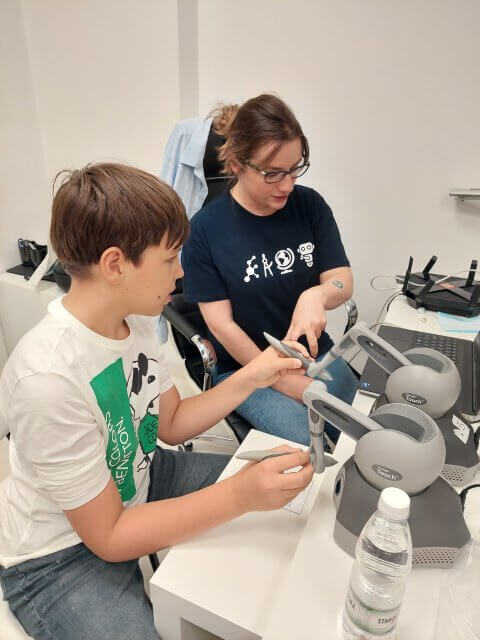 Lesser Poland Night of Scientists 2022 – Sano among the exhibitors! 

Lesser Poland Night of Scientists is a great celebration of science, knowledge and technology. The Sano Science team will be present at this extraordinary popular science event!  

Robots, augmented reality and AI are our everyday life – we are working to support doctors and surgeons in their work. Personalized computational medicine is the future being co-created by us.  

On September 30, we look forward to seeing you at the Szpital na Klinach in Krakow. The program includes, among the others:  
– Laparoscopic surgery workshop
– Modern ultrasound diagnostics
– Virtual reality surgical simulator
– Augmented reality demonstration. 

More information about the event: https://nocnaukowcow.malopolska.pl/